The Skills Of A Blacksmith Volume 1: Mastering the Fundamentals of Blacksmithing
By Mark Aspery – Published 2007
Price : $$ – Amazon Affiliate Link
Signed copies can be ordered directly from Mark Apsery's website.
Philip's Ranking: 5
Beginner Blacksmith: 5
Advanced Blacksmith: 2
Inspiration: 1
Historical: 0
Video Review: N/A
The Skills Of A Blacksmith series by Mark Aspery is a three volume work comprised of Vol 1 the Fundamental Skills of Blacksmithing, Vol 2 the Fundamentals of Leaf-Work, and Vol 3 the Fundamentals of Traditional Joinery. This series is widely regarded as the best set of blacksmithing books to have ever been published.
When people tell me they are interested in getting into blacksmithing and want to know what books they should buy I ask the follow up question, "How serious are you about wanting to learn?" If they say they are just curious I point them to The Backyard Blacksmith, which you can frequently find for $10-15, but if they say they are serious about it then I point them to Aspery's Mastering The Fundamentals Of Blacksmithing.
What you get with this book is a detailed foundation in the skills you need to work on and practice as a beginning blacksmith. Let's walk through the book section by section: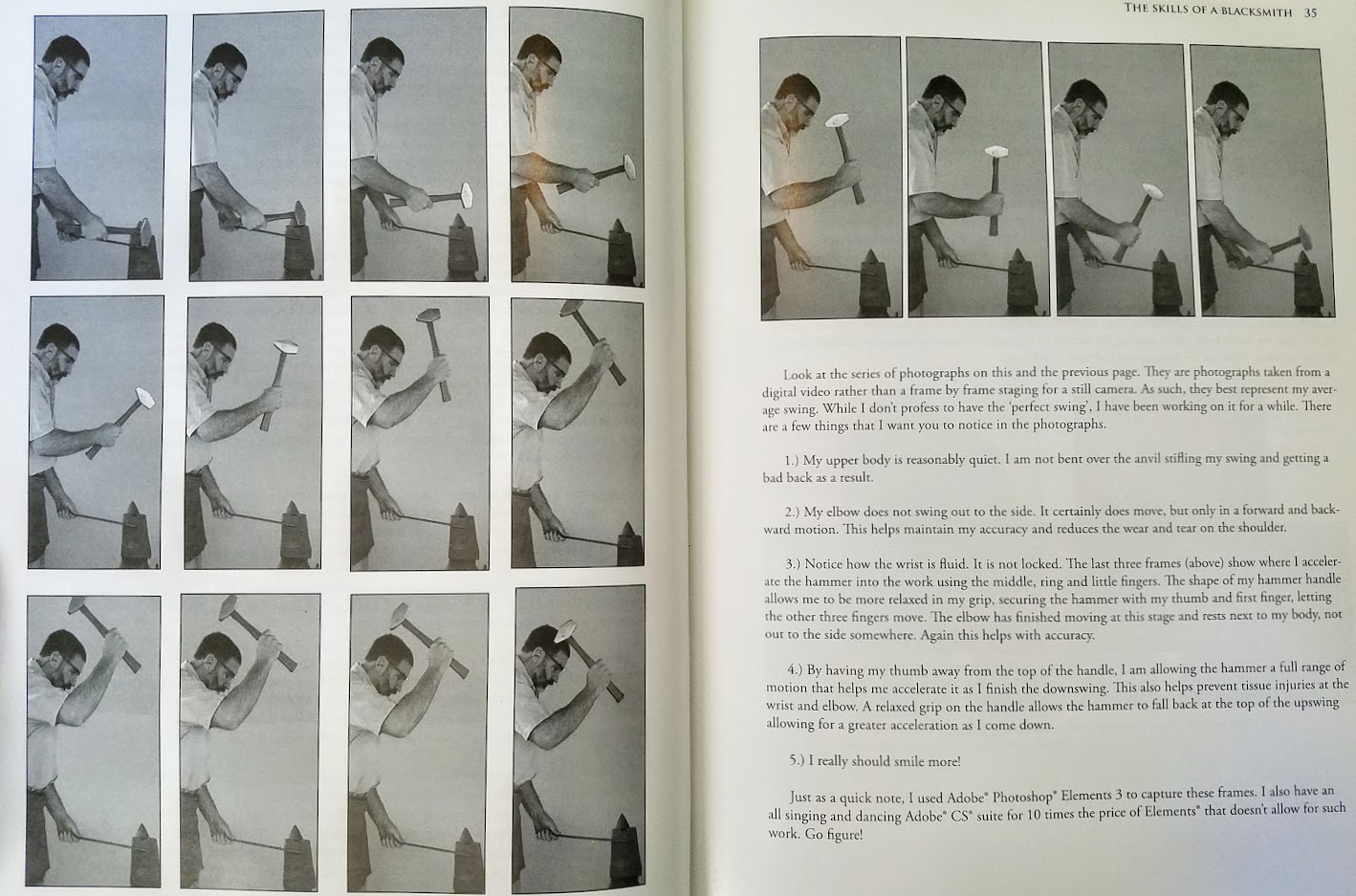 Getting Started

Introduction and Safety
Laws and Principles of Blacksmithing
The Anvil Stand
The Vise Stand
Hammer Styles and Hammer Dressing
Working on the hammer swing
Working at the anvil
Square, Octagon, Round, Diamond, and Chisel Tapers, (SORDaC)
The Stylized Leaf
In the Getting Started Section Aspery covers a lot of what you'll find in most blacksmithing books focused on beginners, a number of details you don't normally get, and a few notable, though I think minor, absences.
We'll start with what this section is missing that I normally expect from blacksmithing books and that's a discussion of shop layout, forge types (coal/charcoal vs. gas/propane), and other equipment that's useful in a blacksmithing shop. If those are areas that interest you you'll need to pickup another blacksmithing book in addition to this one. They are topics that are covered in almost every blacksmithing book out there such as Backyard Blacksmith, The Art of Traditional Blacksmithing, or almost any other blacksmithing book.
What Aspery does cover though he covers better and in more detail than anyone else out there. Things like how to swing your hammer (see image) correctly and safely are covered in detail which are either missing all together or lacking in detail. Another essential item for any new blacksmith is how to dress hammers and understand the variety of hammers and their uses both topics that are covered in detail.
The two most valuable sections of this intro section though are the "Cow Patty" theory of blacksmithing and the SORDaC method. As part of the Laws and Principles of Blacksmithing the Cow Patty theory explains how hitting steel with a particular hammer shape will cause it to move in predictable ways. This sort of foundational knowledge will improve everything you do in the future. The second is the SORDaC method of drawing out tapers. A lot of times there are multiple ways to accomplish a task in blacksmithing however with drawing out tapers that isn't true and SORDaC is the one right way to do it so it's great that this book covers it in detail.
Hand Tools

The Hammer End
The Hot Cut Chisel
The Curved Chisel
Round Punch
The Slot Punch
The Cape Chisel
The Wizard Eye socket tool
The Wizard Eye punch
Drifts
Small Cold Chisel
Heat Treatment, an explanation of terms and techniques
The Basics of Heat Treatment
The second major section covers a general way to forge and heat treat hand tools such as punches, chisels, and drifts. As a new blacksmith these are part of the basic toolkit you'll need and forging your own tools can be a huge money saver assuming you can even buy the specific chisel you may need. I've done a video on making a center punch and a round punch using this technique. You can also watch Apsery's own video on the process.
Projects

The Wizard Bottle Opener
The Wizard Hook
The Scrolling Wrench
The Monkey Tool
The Cut and Uncut Tenon
Scrolling Tongs
My first forge-weld
The Spatula with Colonial Influence
The Ladle
The Fork
Making your own bottom tools
Dick Fedder's Stylized Flower
The Lap Weld
Flat or Open Jaw Tongs
Farrier Style Tongs
Bolt Jaw Tongs
Farrier Style Tongs
Bolt Jaw Tongs
Forging a Simple Knife Blank
The sections on projects works it's way through a number of interesting projects using the skills and tools covered in the earlier sections of the book.
Each of the projects is laid out clearly with great photos supporting the specific steps. The majority of the projects are focused on crafting more of your own tools and working your way through this book you can go from never having done any blacksmithing to having a well stocked shop that will give you the tools and more importantly the skills to accomplish your blacksmithing goals.
Diving into a couple of these projects it's clear why this book is so highly recommended. For example if we look at one page from the Scrolling Tongs project ( see right) Aspery provides clear written instructions and matching photographs. Being able to see exactly what it should look like step by step is hugely helpful if it's your first time making an item.
Aspery has also found a way to take very clear photos of everything showing a level of detail & clarity you won't find in any other book I've seen.
The final take away is that if you are a new blacksmith who is serious about learning how to blacksmith this is the best book out there and should be one of your first purchases.